Hook-and-Loop AIO Cloth Diapers, 6-pack Bundle + 6 Inserts (Unisex Prints)
Velcro Charcoal Bamboo All-in-one AIO Cloth Diapers with Pocket, 6-pack Bundle + 6 Inserts
Easy to use with convenient hook-and-loop (velcro) closure - perfect AIO Cloth Diaper for daddy and day care

Stain resistant soft charcoal bamboo inner lining - wicks moisture away and keeps baby's skin dry and comfortable

Breathable waterproof lining of PUL on the outside - no cover needed

Blowout protection with inner leg gussets. Adjustable rise and waist for perfect fit every time

Customize absorbency when needed - AIO Cloth Diapers already have built-in soaker, but with pocket opening you can add more absorbency by adding more inserts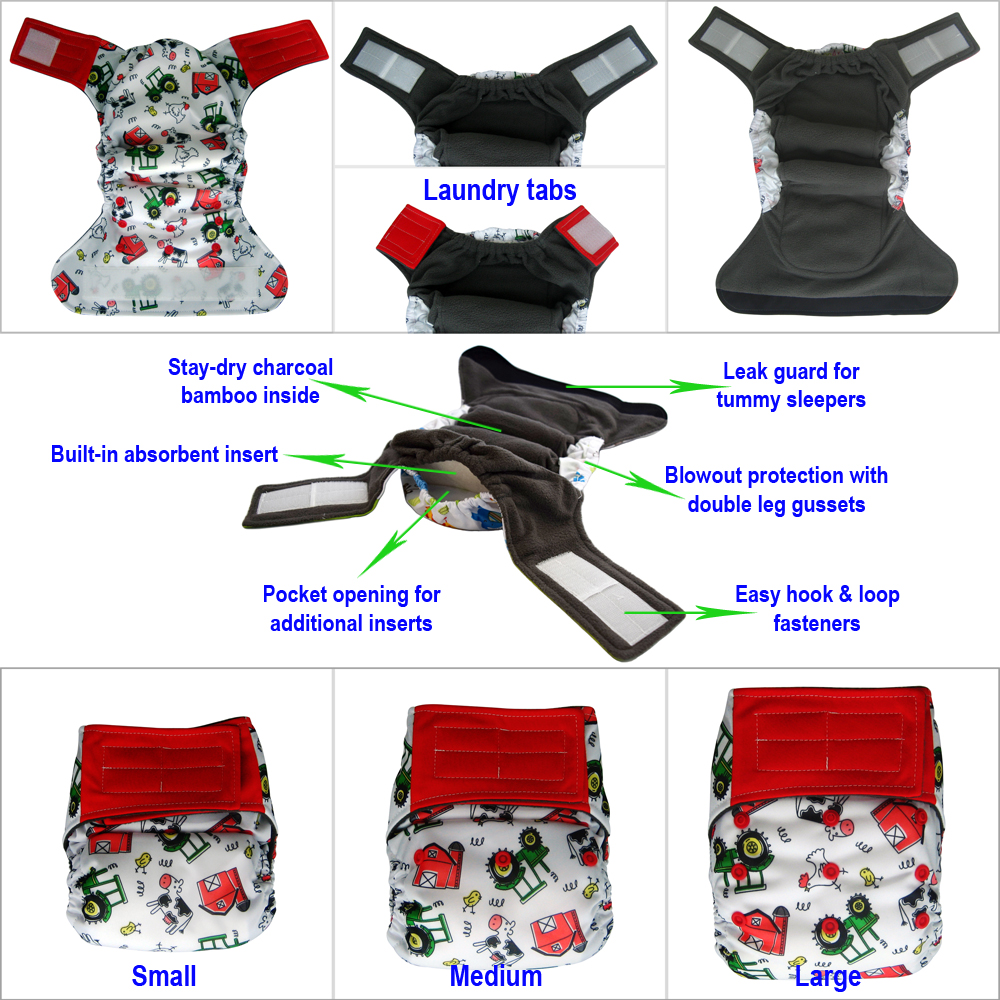 Bundle Set includes:
6 All-in-one Cloth Diapers with Hook & Loop fastener & 6 Charcoal Bamboo Inserts
Materials:
Waterproof outer layer PUL (Polyurethane Laminate) - 100% polyester
Stay-dry inner layer - 100% rayon from bamboo charcoal
Built-in soaker - 50% rayon from bamboo / 50% microfiber
Removable insert (5-layers) - 40% rayon from bamboo charcoal / 60% microfiber
Size:
One Size design fits most babies from 10 to 35 Lbs (weight measurements are approximate and may vary)
Safety:
The EcoAble cloth diapers are tested and certified in compliance with the US CPSIA (Consumer Product Safety Information Act) rules and regulations.
As easy as disposable diaper only so much better for your child's health, budget and environment!
Care:
Knock solids into toilet/ Store in dry pail / Cold machine soak / Warm wash / Tumble dry low or line dry; Water temperature: 95F. No bleach. No softeners. Do not boil. Use liner with rash creams.
Video Review: ecoAble All-in-one Cloth Diaper with Hook & Loop Closure
Great product. Great price. 10/10. Will definitely buy more
Write a Review