Teen & Adult Pocket Cloth Diaper with Bamboo Insert, One Size
Teen & Adult Incontinence Cloth Pocket Diaper with Charcoal Bamboo Insert Pad, One Size
COMFORTABLE: EcoAble Adult Cloth Diapers are soft, stay-dry and super-absorbent; waterproof layer stops leaks making them ideal for young and old dealing with urinary or stress incontinence

FOR MEN, WOMEN & TEENS: One size fits most with adjustable tab waist and elasticized legs giving you leak proof comfort and the confidence; Ideal for sensitive bladders, menstrual cycle heavy flow, post partum bleeding and general incontinence protection

ABSORBENT: Two-part diaper system contains the soft, waterproof diaper shell and an extra absorbent 5 layer Charcoal Bamboo pad. Add extra insert when more absorbency is needed (sold separately). Compatible with EcoAble Teen/Adult Inserts and generic disposables inserts

ECONOMICAL & LONG LASTING – EcoAble Cloth Diapers and Inserts are reusable and machine washable. Great for environment and for your budget

EASY CARE: Machine washable on warm or hot with a cloth diaper safe detergent. Hang dry or tumble dry low the diaper shell. Dry insert on medium or low heat. Do not use fabric softener, as this can hinder the absorbency of the diaper
TEEN / ADULT CLOTH DIAPER SET INCLUDES:
1 Waterproof Pocket Cloth Diaper Shell
1 Charcoal Bamboo Insert Pad

- Waterproof and breathable PUL diaper shell, helps keep skin dry and comfortable.

- Simply place absorbent material in the pocket. Also compatible with all EcoAble Teen/Adult Cloth Diaper Inserts (sold separately).

- Fully adjustable: adjust size with snap buttons for a perfect fit every time.

SIZE:
Check your measurements before ordering!
The diaper hip tabs adjust from 26 inches to 41 inches - measure yourself just below the top of your hip bones to determine if the diaper would be a good fit.

MATERIALS:
Cloth Diaper Shell – outside: 100% PUL (Polyurethane Laminate); inside: 100% Rayon from Bamboo Charcoal.
Insert Pad – Outside: 100% Rayon from Bamboo Charcoal; inside: 100% Microfiber
SAFE:
EcoAble Cloth Diapers are tested and certified in compliance with the US CPSIA (Consumer Product Safety Information Act) rules and regulations
Discreet Packaging: We know that when you make an order for adult cloth diapers you don't want everyone knowing about it! At EcoAble, every order you make is discretion assured – that means completely unmarked packaging.

Designed in USA, made in China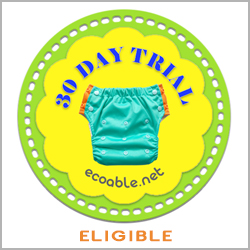 Great product. Top quality!
Fits well, very comfortable and absorbent.
Awesome, but needs a little redesign
I really like the pocket diapers. The fact they are adjustable in absorbency makes it an easy winner. I can adjust them to whatever I need that particular day or night. A few boosters and I am set for the night, on insert and am I set for three or four hours. The designs are great as I am very much a unicorn fan, and my boyfriend calls me a unicorn at heart... The only thing I would personally change is the way to close the opening for the inserts. Sometimes when laying down or sleeping, that is where the leaks come from, and can be quite devastating to wake up in the middle of the night to a wet bed. But then again, no diaper will ever be perfect.
After using disposables like Attends for years we decided to try cloth diapers for our son. We are generally impressed by the ecoAble products however the sizes aren't a perfect fit yet! The Youth size diaper is a little small for him however (typically) the Regular on its tightest buttons is still a little loose across the top when he is lying in bed. The snap-in polar bear (Youth size) is currently his favourite day time diaper, he can change the insert & wipe the cover down himself. The rest of the diapers we bought for him are (Regular size) one size which mean the cover can't be reused until washed. The prefolds do seem better at adding absorbency than the inserts, since the selection of diapers we bought came with more inserts than prefolds we've tried doubling up inserts & more often than not the diaper requires changing during the night whereas a insert & a prefold does not. Parental Pros: • Being able to vary the absorbency is a godsend; the balancing act between not wasting diapers & avoiding a ratty child who is self-conscious is finally over! A single insert during the day is not noticeable & is enough to absorb an accident. • After more than decade of disposables, the Regular size diapers should save us some money as the end is not yet in sight. • The snaps are far superior to tapes on almost every disposable we've tried. Being able to undo/redo the diaper is essential for a child who can partially use the toilet. • The Regular size covers (because they are currently a bit big for him) can be snapped onto their loosest snaps on one side & allow the diaper to be moved up & down like a pull-up which allows him to put it back on properly much faster than taking it off entirely or doing the equivalent with a disposable Parental Cons: • Washing & drying • Whilst thankfully the days of poopy diapers are far behind us, I don't think we could have coped with cloth diapers back then • Bulky - Half a pack of disposables in the car don't take up much space, the equivalent of cloth supplies & the wet bag do Child Pros: • Like the covers, wish there was more than 5 snap-in covers to choose • Like being able to make the diaper thinner • Like cover is silent • Snaps on side can be uncomfortable when sleeping on side
Received my cloth diapers today and could not wait to try them on. Material felt extremely durable on the outside but soft on the inside. They were fully adjustable and fit like a glove. Took a little bit of trial and error to make it fit just right, but when i found the right position of the snaps for me, it was wonderful. Not too big and not too small. The looks of them are amazing. Plenty of room to add a couple more soaker pads if desired. Looks like they will hold up to just about anything that gets thrown at them. Will have to look into getting some more of these. Shipped very fast in a plain envelope. Security and privacy, great combination! THANKS
I didn't think I would find a cloth diaper good enough to handle an adult's need, but EcoAble surprised me. The baby diapers I bought for my daughter were so good, I decided to try the Adult ones. Both the 'aoi diapers' and diaper covers were able to handle mid to heavy wetting. The quality and durability of the diapers are better than I've seen. The elastic is strong, but not constricting. They give the assurance that you will be comfortable and well protected. Diapers I've tried in the past have been too bulky, and impossible to hide. The EcoAble diapers sit low enough that they don't peek over my jeans. I can wear inserts for mid-level protection without having a butt shaped like a basketball! I just swap out the inserts and am good to go. Added inserts get me through the night. I do have a couple thoughts for improvement, but it isn't to say all would feel this way: The gusset (standing leak gaurd) is extremely effective, but if they were taller (about twice the height) they would hold extra inserts more easily. Most heavy duty disposable have taller gussets. I think it would really help here. The last bit of constructive criticism I have is to offset the top and bottom row of snaps. If I put the top snap directly above lower, the either the waist is too loose, or the legs are too tight. So, I just put the top snaps one setting closer to the center than the bottom (I.e. the snaps are at a diagonal instead of right on top of each other. Nonetheless this is an outstanding product.
This clothes diaper from eco able are way good they hold a fair amount. On my first uses i was expecting to feel wet to i felt bone dry like it didn't even happen as it went on it did feel a little wet but not supper damp down there. The button snaps could be better and more options for sizes
Write a Review
Shipping Cost
Calculated at Checkout
Bulk Discounts
Buy 2 or above and get $1.00 off