5 Reasons to Use Cloth Diapers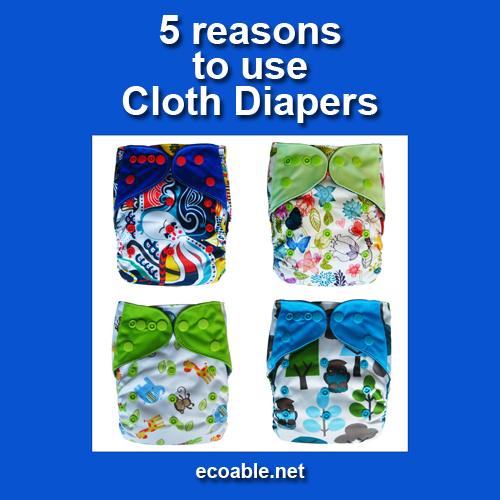 #1 CLOTH DIAPERS SAVE MONEY
Each disposable diaper costs around .20 cents. By the time your baby is 2-1/2 years old, you will end up having spent $2,000-$3,000 to diaper your child with disposable diapers (total cost will depend on the disposable brand).
You can purchase a full stash of ecoAble cloth diapers, and cloth diaper your baby full time for around $250.00- $400.00! Not only can you cloth diaper your first baby, but several children can use cloth diapers from previous siblings! Total price will depend on your preferable style and method of cloth diapering with ecoAble cloth diapers and accessories.
#2 CLOTH DIAPERS ARE BETTER FOR THE ENVIRONMENT
Have you ever thought about how many disposables get thrown away by everyone in the world, in just ONE day? Disposable diapers are not biodegradable at all, and actually take hundreds of years to decompose. They sit in a large landfill to create toxins into our earth at into the landfills- and about 18 billion disposable diapers are added to landfills each year.
Single use disposables require more landfill space than multiple-use cloth diapers. In the United States, disposable diapers make up about 2 percent of all garbage.
#3 CLOTH DIAPERS ARE MORE COMFORTABLE FOR BABY
Most of ecoAble cloth diapers are lined with the rayon from bamboo material. Bamboo fiber is breathable, softer than cotton, naturally antimicrobial and antibacterial, hypoallergenic, pesticide free- and has so many more benefits!
Bamboo for all these reasons make a great material for cloth diapers, and for baby's sensitive skin. It is known to absorb 70% more than cotton alone.
If you have ever looked into what is put into a disposable diaper, you may be surprised. Not only are most diapers bleached, some ingredients found in disposable diapers are dyes, plastics, VOCs (Volatile Organic Compounds), TBT (Tributyl-tin, Dioxins, and many more harmful chemicals. You won't find these harmful chemicals in cloth diapers.
#4 MODERN CLOTH DIAPERS ARE ADORABLE
Cloth diapers today are nearly as convenient as disposables. Modern cloth diapers are made of high-tech fabrics and fasten with snaps or hook-&-loop closure. With new technologies, cloth diapers became a cute accessory for your little one. You will be amazed how adorable cloth diapers can be!
#5 CLOTH DIAPERS ARE SUSTAINABLE
ecoAble cloth diapers can be used on several children, for multiple years.
A diaper stash of ecoAble cloth diapers for one baby can be passed along to 3-4 additional little ones, if cared for accordingly. This is one of the best features of cloth diapering!
You can resell your diaper stash afterwards, and get extra cash back while helping another mom or family.
Comment below and tell us why do you LOVE cloth diapers?