7 tips to end a diaper changing battle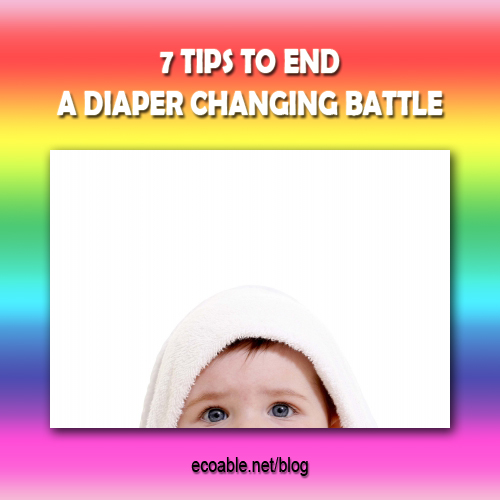 At times, mothers dread the moment, diaper change, the process can get messy especially when the child is moody or some few minutes to afternoon nap. All in all the fact that we have to change cloth diapers mean that we have to take charge and at the same time make sure it is not a wrestling match.
If you want to get it right, make the cloth diapering a fun moment, otherwise the kid will dread it and it will not be easy for you.
Tip #1
Start with diverting attention, let baby's mind be somewhere else. You can reserve few toys to play during the diaper change only. Make sure to rotate toys ever so often. As they fiddle it hasten the process but make sure you do it thoroughly.
Tip #2
If your baby is bored with toys, give your baby a household object that you find safe. Items such as plastic measuring cups or empty ice cream container can provoke some curiosity and keep your little one busy during diaper change.
Tip #3
You can also trying singing silly songs or producing funny sounds which tickles the baby , this can work magic in distracting attention, try it out and in a moment the kid will be home and dry.
Tip #4
When your kid is old enough, you could name body parts and point to them, then encourage child to point to them. After a little bit, this process can become a fun game.
Tip #5
Improve his interest and cooperation in the process. Try to get your child engaged in the process by helping pick between two cloth diapers, or pulling his shirt over his head.
Tip #6
If you fail in diverting attention, you can ask for help from your partner or older sibling, let him keep the baby occupied as you do the dirty work and within a short time you will be through.
Tip #7
On a lighter note, if anything else fails, just rush to the bathroom and while in there shout "honey, I think the little one needs some diaper change" it might work for you but do not make it a habit.
What are your methods to make diaper changes easier? Please comment below.