​Tips, Facts, and Benefits of Cloth Diapering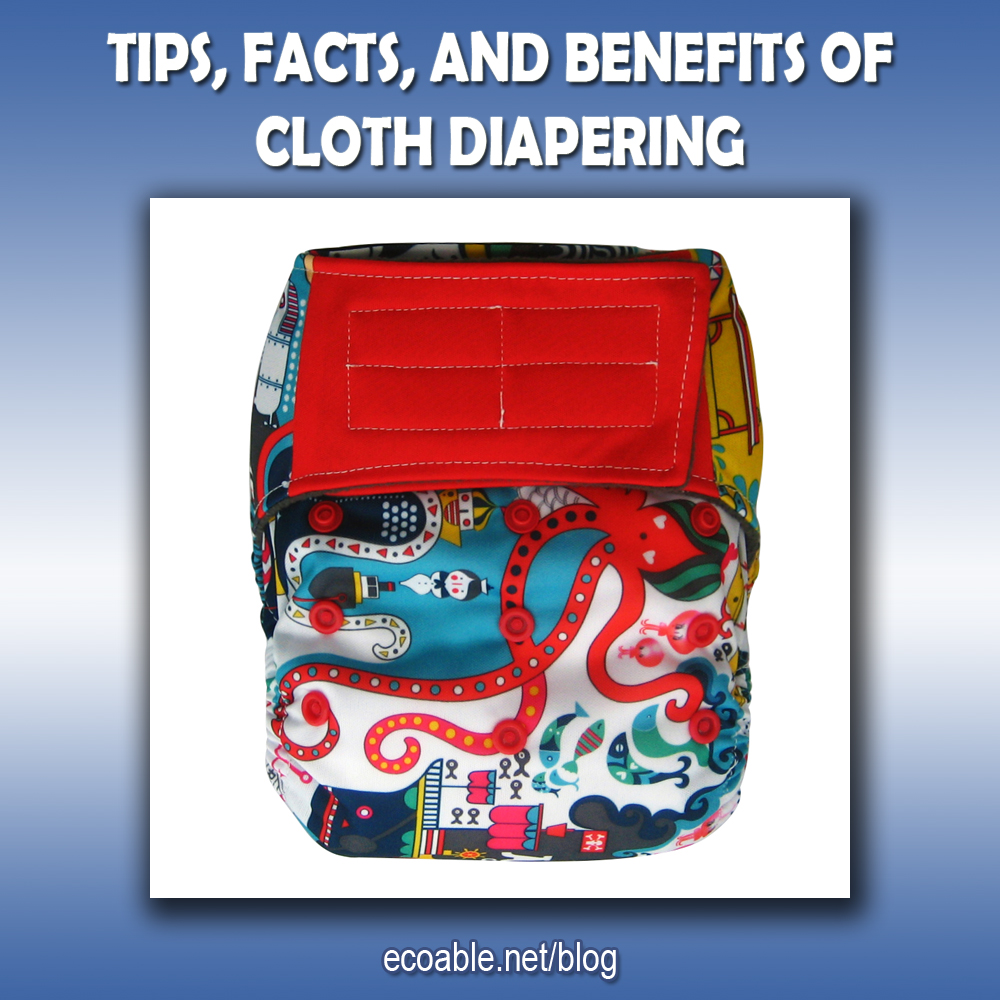 If you are a new parent and cloth diapering is new to you, you may wonder how to get started. Generally, cloth diapers are use by chemical-conscious parents for their babies. They are soft on baby's skin with no chemicals contained as compare to disposable diapers.
Disposable diapers have traces of extremely toxic Dioxin, which is a by-product of the paper-bleaching process, a toxic pollutant called Tributyl-tin (TBT) which can cause hormonal problems, and a type of SAP (super absorbent polymer) known as sodium polyacrylate which increase the risk of toxic shock syndrome.
Changing cloth diapers is often a source of fear, humor, and confusion for new parents and baby sitters. Babies and toddlers are yet capable of having their poop and pee in the toilet bowl. For this reason, you must know how to change their diapers every few hours to avoid discomfort and rashes.
Below are basic tips about cloth diapering:
Secure a dry spot to change baby's diaper. Look for a warm and dry area to change your baby. You can use a changing table, a diaper changing pad, or a blanket on your bed. Make sure you wash your hands before and after changing the diaper.
Keep diaper supplies near to your changing station. Keep clean wipes and diapers within reach along with petroleum jelly, powder, and diaper cream. Always have these important baby essentials in the diaper bag.
Store properly the diaper in basket, drawer, or shelf. Basket is the best place to keep cloth diapers. You don't have to fold fitted diapers since you can do it during changes.
Use a diaper absorbent or waterproof pad. A diaper changing pad serves a cushioning support for baby diapering.
When to change the baby's cloth diaper?
Always change your baby's diaper to keep baby's skin healthy and dry. On the average, a newborn baby needs to be changed 15-20 times a day while a toddler may only need 10-15 diapers every day.
Why use cloth diapers?
To save money - Buying disposable diapers is like throwing money every diaper change. The cost of disposable diapers will also depend on the brand.
To prevent waste - Disposable diapers can generate ton of waste on landfill area whereas cloth diaper is eco-friendly.
Offers more convenience - Cloth diapers nowadays are designed to prevent leaks. No need to run out to buy more diapers!
What are the benefits of cloth diapering for infant?
Contain zero chemicals. Using cloth diapers may end up with more laundry work, but your baby is not exposed to harmful chemicals like polyacrylate, chlorine, and perfumes. These chemicals can change the pH balance and strip away protective bacteria on the skin which may lead to irritations and dryness.
Made from better materials. Cloth diapers have more breath-ability. They are made from safer materials for baby's skin with zero to minimal skin rashes and irritations.
What are your reasons for choosing cloth diapers?