Baby Heavy Duty Diaper Cover (No Leg Gussets)
Reusable Diaper Cover: Waterproof Shell for Baby Prefold Cloth Diapers, Flats or Inserts
EASY: Reusable cloth diaper covers are very simple, just add absorbent layer and snap on the baby

FUNCTIONAL: All in two diaper cover works with most fitted diapers, inserts, flatfold prefolds and flats

ADJUSTABLE: Resize waist and rise with snap buttons for perfect fit every time

LEAK PROOF: Waterproof cover features gentle elastics and double leg gussets for extra protection from blowouts

ECONOMICAL: Use diaper shell 3-4 times before washing (unless soiled), wipe clean between uses and replace inserts
Reusable cloth diapers are nothing like old fashion rubber pants for babies! Modern diaper covers are made of waterproof PUL material - it's soft, breathable and very comfortable for your baby and active toddler.
Diaper cover provides waterproof layer and can be used with inserts, prefolds, flats or fitted diapers (sold separately). No pins, fasteners or other accessories required! Simply place absorbent layers inside the diaper shell, wrap around baby's bottom and secure with snap buttons.
It's best to replace liners every 2-3 hours. Reuse diaper cover if not soiled, wipe clean between uses and allow air-drying. It's the most economical diapering solution for daytime and overnight.
EcoAble diaper cover features gentle elastics to protect from leaks and blowouts. Flap pockets will hold birdseye prefolds, cotton prefolded flats and various inserts.
Hybrid diaper cover can be converted to Ai2 system when combined with EcoAble Snap-in Bamboo Insert (sold separately).
ONE SIZE: Fits most kids from birth to potty training (approximately 10 to 35 pounds). Washable cloth diapers make ideal gift for newborn baby girls and boys.
MATERIALS: 100% PUL (Polyurethane Laminate)
CARE: Knock or spray solids into toilet; store in dry pail only. Machine washable and dryable. Max. water temperature 95F. No bleach. No softeners. Do not boil. Use liner with rash creams. Visit EcoAble Portal for more care instructions and troubleshooting.
SAFE: EcoAble Cloth Diapers are tested and certified in compliance with the US CPSIA (Consumer Product Safety Information Act) rules and regulations.
Designed in USA, made in China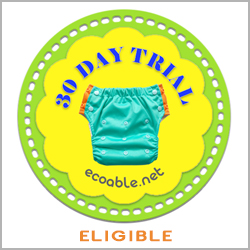 Shipping Cost
Calculated at Checkout
Bulk Discounts
Buy 2 - 4 and get $2.00 off
Buy 5 or above and get $4.00 off