3-in-1 Hybrid Cloth Diaper - Training Pants or Swim Diaper, Newborn Baby to 10 Years
Hybrid Cloth Diaper - Reusable Training Pants or Reusable Swim Diaper, Newborn Baby to 10 Years
HYBRID CLOTH DIAPER: Waterproof 3-in-1 trainer for daytime, swimming or potty training

3 SIZES: Designed to fit little infants, toddlers and special needs big kids up to 10 years

ADJUSTABLE ABSORBENCY: Comes with removable bamboo diaper booster pad for extra protection

EASY FOR PARENTS & KIDS: Side snaps and stretchy waist for simple potty training

WASHABLE: Non disposable swim diaper and reusable training pants are the best choice for your child
Forget plastic potty training pants and disposable swim diapers! Reusable 3-in-1 hybrid cloth diapers are loved by parents and kids for it's genius design. Side snaps help removing soiled diaper without a mess. Stretchy waist is preferred by toddlers for easy pull on and off action, just like real underwear.
It's ok if your child is not quite ready for potty training - removable bamboo diaper booster pad adds absorbency to be used just like any daytime cloth diaper.
You won't need to get another special swim diaper, 3-in-1 diaper cover is approved for use in water and pool.
How to use 3-in-1 hybrid cloth diapers:
Daytime use: Attach Snap-in Bamboo Cloth Diaper Inserts.
Swimming: Remove diaper booster pads and use cover only.
Potty Training: Remove all inserts when your child is ready for toilet training, thin sewn-in soaker will absorb small accidents. Add Snap-in Bamboo Inserts for cloth diapers when you don't have an opportunity to train your child (away from home, car rides).
SIZE: For best fit measure just below tip of the hip bone and choose appropriate size based on that measurement:
Size 1: hips 12-18 inches (0 to 12 months / 8-25 pounds*);
Size 2: hips 15-22 inches (10 months to 5 years / 15-35+ pounds, fits up to 42 pounds*);
Size 3: hips 20-30 inches (5 years to 10 years / 35-60 pounds*).
*Age and weight suggestions are approximate and may vary.
Additional bamboo inserts are available here: Snap-In Bamboo Booster Inserts
MATERIALS: Outside waterproof layer: 100% PUL (Polyurethane Laminate) /Inside mesh lining: 100% Polyester /Sewn-in soaker: 80% Rayon from bamboo 20% Polyester /Snap-in insert: outside 80% Rayon from bamboo 20% polyester, inside 100% microfiber.
CARE: Knock solids into toilet. Store in the dry pail only. Machine washable. Tumble dry on low/medium heat setting. Maximum temperature 90F. Do not boil, bleach or use fabric softeners. Use liner with rash creams.
Designed in USA, made in China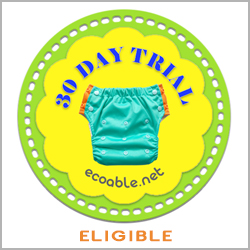 A little bulky, but very satisfied with quality!
The diaper itself is great quality and super cute. It does it's job. My daughter is 48lbs and it doesn't fit nice. The butt is super bulky (without the insert), pops out of her swimsuit enough to really embarrass her (not discreet) I cannot even imagine getting her dressed with a liner in, uncomfortable fit through her thighs and we have very little room to grow in the waist. I am going to attempt modifications because it is such a good quality product.
I think the diaper is great and it does not smell at night which is wonderful however it made bruising on my daughters hips from the snaps so I'm waiting for the bruises to go away to see if I make it a larger size if it will bruise again. Otherwise I hope I still have time to return it.
Fantastic swim diaper option
I researched a lot of options for swim diapers and hated the idea of needing to use a disposable swim diaper in any way. This diaper was perfect for our 9 year old daughter for our beach vacation. The design makes it even look like a bathing suit bottom so I didn't feel the need to put shorts on overtop! She was so comfortable (from what I could tell). And it worked very well. I love that I can also use them as reusable diapers if need be. Love it and will be getting more next year when she most likely needs a bigger size.
Best one i found for training pants
I have been looking for a pull up type cloth for my daughter to use at night time and this great was not sure what size to get her so i got a size 2 and 3 and the 2 fits her the best on the largest side snap and the rise down 1 she is 5 and 34 lbs planning on getting a couple of more in the next few weeks
This is an amazing diaper! I found these while searching for a swim diaper for my 3yr old that is straight out terrified to use the toilet. He is a very BIG 3yr old and I was unable to find any swim diaper that would fit him until I found Ecoable! This particular diaper is awesome and so versatile. I have only used it for swimming so far but I can use it with either my very BIG 3 yr old or my average sized 2 yr old since they are so adjustable which is a huge plus. It will grow with your child and definitely be a great investment!!! Swim diapers are so expensive but I will never buy a pack again :) I also bought the size up youth diaper for my 3yr old since I wasn't sure if it would fit. It works for him but not as great as this style. They definitely hold in the water which can pool while swimming but I think it's really going to come in handy for really giving potty training a go again. 2 big thumbs up for both products and saving money!
Most Versatile Diaper Ever!
This diaper is absolutely amazing! Coming from a cloth diapering Mom of 5 who runs a cloth diapering YouTube channel, this is one of the best cloth diapers on the market! I've used this diaper on both my babies and it's an excellent swim diaper, it's contained messes while swimming for both of my babies. It also comes with a snap in insert so you can use it as a regular diaper and it works great! Even my heavy wetting toddler can wear it for serveral hours, no problem. Lastly, it can be used for potty training with or without the insert. It has an athletic mesh lining inside that allows your toddler to feel the wetness to assist with potty training, or to wear in hot climates to keep your baby cool. The side snaps make it easy for toddlers to pull the diaper up and then you can also unsnap it to deal with accidents. If you're looking for a cloth diaper, a swim diaper, or a potty trainer, I HIGHLY recommend this diaper because you'll get the most bang for your buck because you'll get all 3 in 1!!
Write a Review
Shipping Cost
Calculated at Checkout
Bulk Discounts
Buy 3 or above and get $3.50 off